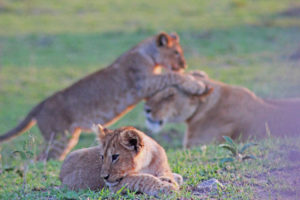 This safari includes all the highlights the Maasai Mara has on offer. Transport in a 4x4 Landcruiser, sleeping in a semi-luxurious camp in the wilderness and flying in a Hot Air Balloon. If you want to treat yourself to something out of the ordinary, this is your safari experience.
Our philosophy at Namayiana Safaris is to include all the activities we are convinced of and that we experienced ourselves. So once you book, you don't have to worry about anything at all.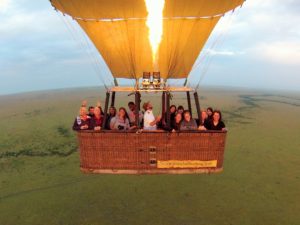 Included
Pick up from and to Nairobi
Game Drives and park fees as per description in Land Cruiser
Accomodation in Enkorok Mara Camp, semi-luxury camp
Hot Air Balloon Safari
Maasai Village Visit in the Maasai Mara
full-boarded including drinking water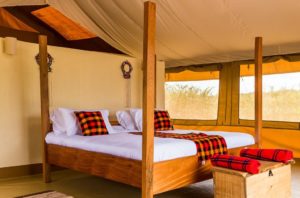 Prices
This safari is a private safari, that gives you the flexibility to arrange the itinerary as per your wish. We can also arrange it as a fly-in safari. Please note that prices vary according to the season you want to visit Kenya. The month of July to September are High Season. Please contact us for an offer according to your wishes namayianasafaris@gmail.com
Day 1: Our guide and driver pick you up a the airport or at your hotel. We start making our way down to the beautiful Great Rift Valley and stop once at the Rift Valley View Point to enjoy a great view over the plains of Kenya. Around lunchtime we arrive in our camp in the Mara, fresh up and have lunch. This afternoon we go for an evening game drive into the National Reserve and start searching for the awesome animals the Mara is famous for. Hopefully we are very lucky to see lions and cheetah hunting for their dinner. After sunset we leave for our camp, enjoy a yummy dinner, sit around the campfire and listen to the stories of the Maasai.
Day 2: We start very early with breakfast and try to be at the gate right at the opening hours. This is the best time to track wild animals and probably find the one or the other while hunting or enjoying breakfast. We make our way up to the Mara River, where - during the month of July to September - the great migration of wildebeests and zebras is taking place. Here we have picnic lunch. Afterwards we continue our drive through the Mara and search for the Big 5. Later we return to camp, relax and visit the neighboring Maasai village. This trip is included and you'll get to know everything about this very traditional tribe of Kenya. Depending on your interests we can also go on a walk to explain more about herbs or animals tracks. We have dinner in our camp and sleep here.
Day 3: Today you will have to wake up early for your hot air balloon ride, but this waking up is totally worth it. You arrive at the launch site before sunset and see how the big balloons awake to life. The sun rises and so do you. Approximately one hour you will float above the Mara plains and try to spot whoever is around there in the morning. Your balloon lands and you are brought to th best breakfast restaurant you have probably been in. Pancakes,eggs, fruits and champagne. No wishes are left behind when you sit in the middle of the bush and enjoy your morning coffee.
You will be met by your guide now and go for another extensive game drive. In the evening our camp arranged everything for a bush dinner. One last chance to enjoy the sunset and enjoy an evening in the savannah you will never forget.
Day 4: Today it's time to say goodbye to the Maasai Mara, its people and wildlife. If you want to, we go back after an early morning gamedrive, have breakfast and then drive back. On our way we pass by Naivasha, a sweet water lake, with many birds, hippos and other wildlife. We have lunch on the way and stop for a boatride on the lake. In the afternoon we arrive in Nairobi and need to say bye to each other.